Training School FORLILPSI 2020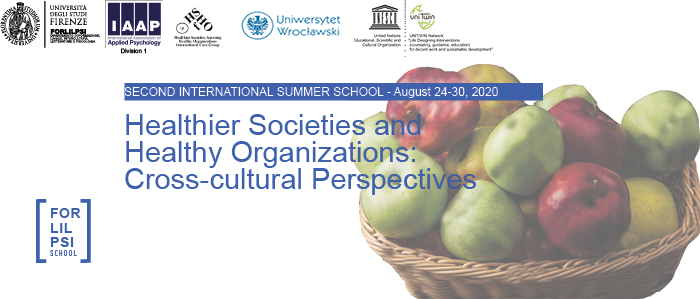 The Second Summer School "Healthier Societies and Healthy Organizations: Cross-cultural Perspectives (August 24-30, 2020)
The Department of Department of Education, Languages, Intercultures, Literatures and Psychology (Psychology Section) of the University of Florence is organizing the Second International Summer School in Healthier Societies and Healthy organizations: Cross-cultural Perspectives.
The President of the Summer School is Annamaria Di Fabio (University of Florence, Italy); Co-presidents Jean-Luc Bernaud – INETOP-CNAM (France);Lynette H. Bikos, Seattle Pacific University (USA); Stuart Carr, Massey University (New Zealand); Maureen E. Kenny – Boston College (USA); Jarrod Haar, Auckland University of Technology (New Zealand); Uichol Kim, Inha University (Korea);Peter McIlveen, University of Southern Queensland (Australia); José-Maria Peiró – University of Valencia (Spain); Marc A. Rosen, University of Ontario Institute of Technology (Canada); Gabriela Topa Cantisano, UNED, Madrid (Spain); Akira Tsuda, Kurume University (Japan).
There will be invited Keynotes, seminars and workshops as well as applied activities for conducting research and interventions to foster healthier societies and healthy organizations in cross-cultural perspectives.
Persons interested in participating in the Summer School should submit to adifabio(AT)psico.unifi.it the following information: curriculum vitae;
 personal statement which provides additional evidence of intellectual and creative achievement, and motivation to attend the Summer School; copy of a ID.
Young colleagues (including PhD students) are welcome!
---